STRUCTURED FIELD SERVICE
NEVER PROVIDE YOUR ACTION. USE YOUR SELLING POSSIBILITIES! FILL YOUR OPPORTUNITY FUNNEL!
Create an offer, order, or invoice in minutes using the iReport app. Use the many detailed features to focus on your sales. Whether you are a freelancer, a sales representative or a team - with the different versions of the app and the optional web backend, you master your challenges.

Keep track of your opportunities. Use our experience and the tried and tested sales templates for an immediate start into your digital sales organization.

Organize your next contacts with smart features on your smartphone and iPad. Customer information mobile in the iReport app, with digital possibilities fast and efficient.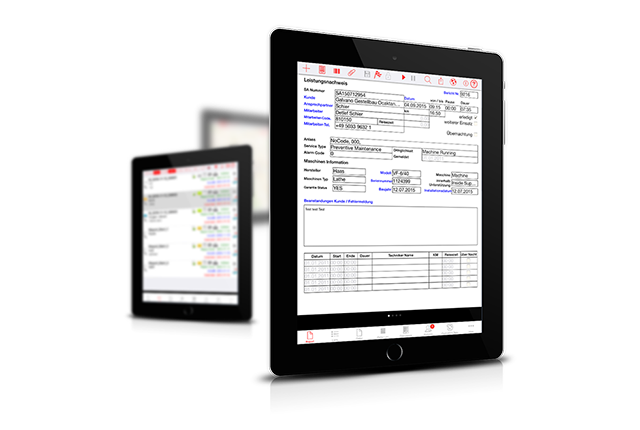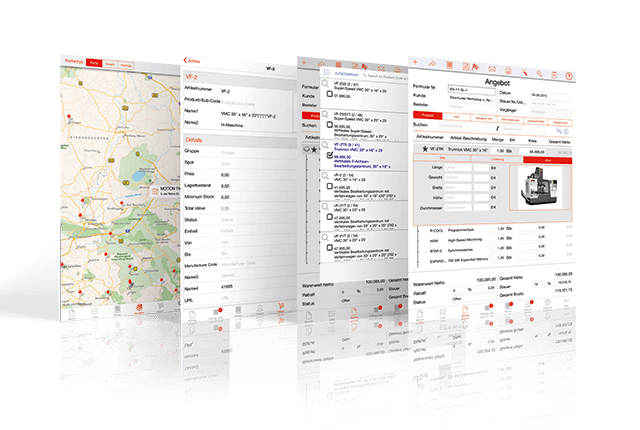 OFFER. ASSIGNMENT. BILL.
THE FINAL QUESTION ANSWERED
Collect the offer together on the spot in the customer conversation. Send it directly by mail and ask the final question about the order. Make the offer on-site in seconds and increase your success rate. Lose less chances, use every sales signal.

The operation is intuitive and learned in the shortest possible time. Discounts, article images and trade item lists are supported as well as order, delivery and invoice addresses. Professionally and attractively designed transaction forms let you start immediately.
START TODAY WITH THE DIGITALIZATION OF YOUR DISTRIBUTION
Get the full potential of your sales force. Minimize the unproductive time to organize your activities. Use the possibilities of mobile smartdevices like iPad, iPhone and Android tablet to work more effectively.

Too much of your precious time is wasted with the maintenance of lists, scheduled activities, search in contacts. Techniques such as touch frequency, electronic re-enactments and automated master data management are used too little.
Make it as successful: display dynamic phone and visitor contact lists. Always work with the latest information on your mobile device.

Apply sales models such as Opportunity Management - Systematic Sales to optimize the number of your sales opportunities. IReport supports you with the implementation. Take action, do not lose yourself in organization and endanger your success. Every day counts.
SERVICE 4.0 DIGITAL
ENLARGE THE AGRICULTURE AND KEEP THE OVERVIEW. SATISFIED CUSTOMERS BY TRANSPARENCY AND ORGANIZATION.
Self-explanatory manuscripts, hardly readable punches, misplaced hour notes and a week-long delay of the billing do not have to be. Capture your hourly notes, work reports or test reports mobile on your iPhone and iPad - quickly and easily. Use e-mail and PDF for immediate delivery.

Simplify and accelerate the recording with the very well-functioning possibilities of the speech recognition, text modules and photo documentation. Focus on your use and save time, mailing, paper deposit and search.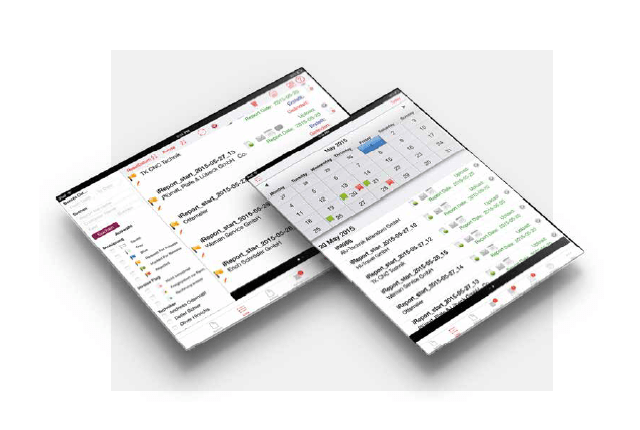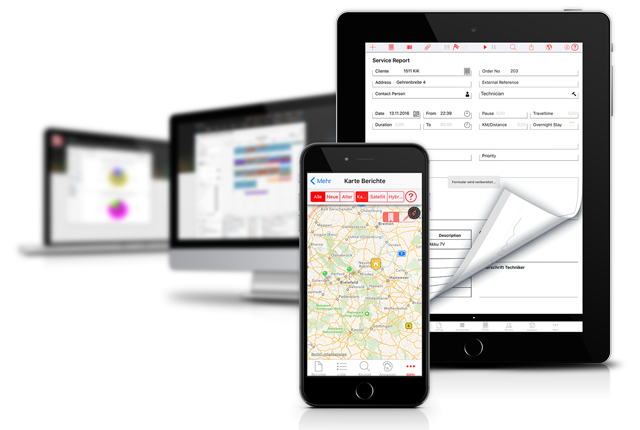 QUICK ACCOUNT WRITING LESS REKLAMATIONS
The technical possibilities are now available to everyone. Smartphones and tablets have become permanent companions, are reliable, easy and fast to use. The small step towards the digital recording of the daily service activities is only consistent.

Save your discussions about invoices, because the services are so far in the past, so the customer can not remember. High aggregate billing because you wait until all documents are together and the effort for individual billing with manual procedures is too costly. Non-searchable documents. All this is past.
MAKE IT AND YOUR CLIENTS SIMPLE, GOOD!
Why, in our digital time, do you need to fill in service reports with a copy of the results? Paper is precious, the pressure-consuming and not flexible to adapt to new requirements. Instead, choose a pool of individual templates for different challenges.

Get more from your iPhone or iPad by installing the iReport app - why not right now?
Use the location functions to automatically insert distance and travel time into the hour note. Start, stop and pause functions also log the time. With photos, you can conveniently document your performance without the hassle of file management.

Send your report directly to the customer and create the invoice at the same time. Thus, the office work is done and you can go directly to the next deployment.
OFFICE DUTY WITH SYSTEM
5 STARS FOR YOUR SERVICE
AN EFFECTIVE SERVICE NEEDS A STRUCTURED INN SERVICE.
Join the field service and service to a team. Working together for the same goal is more effective. Distribute the tasks optimally and quickly make the right decisions by keeping an overview.

The iReport web portal represents the central backend in which all information is combined. Schedule your field service technicians in real time. Manage all the master data of companies, contacts, articles and serial numbers in the responsive Web backend.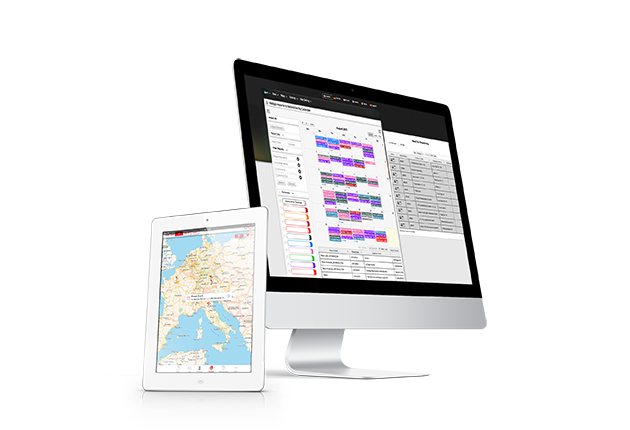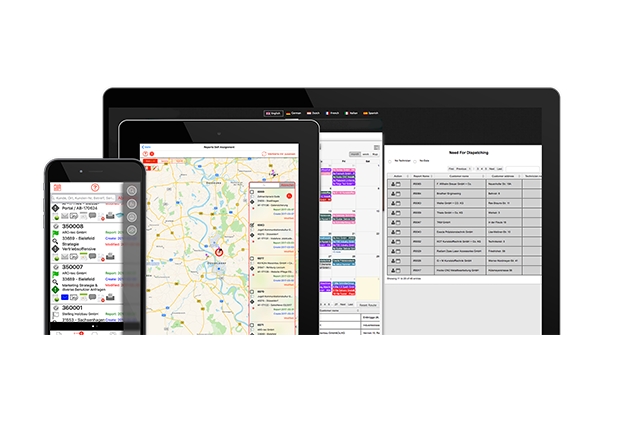 DIGITAL DISPOSITION
PLANTAFELS AND EXCEL LISTS ARE CONTINUOUS.
A digital and dynamic calendar with intuitive drag and drop operation. Plan and control missions and teams in real-time. Save calls, route planning tools and status queries, focus on your customer satisfaction.

Disposition can be fun. Automated notifications and digital, modern communication technology running automatically in the background. Workflows that are defined once and support you by the way without having to deal with the technical details.
DISTRIBUTION WITH REAL TIME
MORE THAN ONLY CRM
Keep track of all sales activities at all times, stay informed. Only those who keep an eye on their overall sales opportunities, have an overview of prospected, qualified, quoted, win and lost can plan and react. IReport is more than just CRM - thanks to integrated sales strategies.

Your sales cockpit in the web portal provides a clear view.
Various charts by period, service, Win / Lost Reason
Calendar view of contacts
Visiting planning with notification functions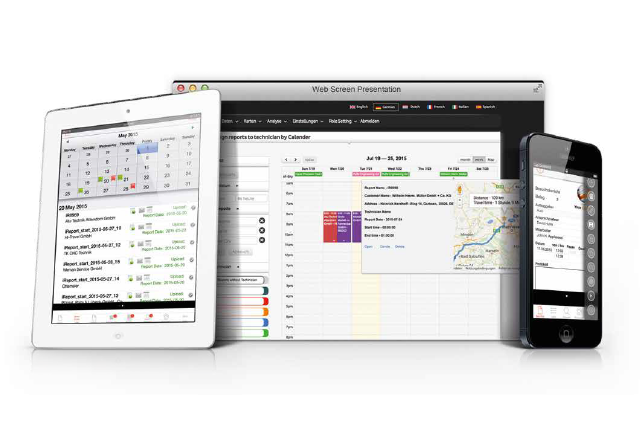 WHAT DO YOU EXPECT FROM A PERFECT SERVICE?
Competent information on the phone or quick response to the online inquiry are the first positive impression with which you can score points with your customer.

Continue the perfect organization. Schedule the service deployment with real-time information. Inform your customers digitally via e-mail about the technician's deployment. Send the technician the job to his device and inform him automatically by push notification.
Ensure the quality of service by structuring your performance record with standard workflows and routine checks. Ask the customer for a deployment rating during the signature.

Send the proof of performance immediately to the customer as a PDF by mail. Create the invoice immediately after the application and attach all necessary hourly reports and photos for the invoice verification.

A perfect digital process reduces errors, saves time and creates confidence with your customers.